Sukhayu Ayurved, a medical practice based in Jaipur, was founded by Dr. Vaidya Pardeep Sharma in 2004 as the country's first and only formal Ayurvedic hospital. He has been working in the field of Ayurveda since 2004 and is a widely recognized Vaidya.
Those people whose qualities are effective, efficient, and beneficial to mankind are called Vidhya-vargiyas.(Vidhya means Knowledge & Vargiya means helpful person). The word Vidhya means knowledge and Vargiya means the helpful person or an individual who contributes to society in a certain manner.
Therefore, A Vaidyais a Vidhya-Varagiyas.
The word 'Vaidya' is derived from the Sanskrit word "Veda" which means knowledge. A Vaidya is someone who has extensive knowledge of the science of medicine.
Vaidya Pardeep is BAMS, MD (Ayurveda). He has completed his education from eminent institutions of Ayurveda. He is a consultant and visiting faculty at many foreign associations.
Dr. Pardeep is the founder of Sukhayu Ayurved, Jaipur. This is a NABH accredited Panchakarma center and a 40 Bed indoor hospital of Ayurveda and Panchakarma treatments, located in Jaipur.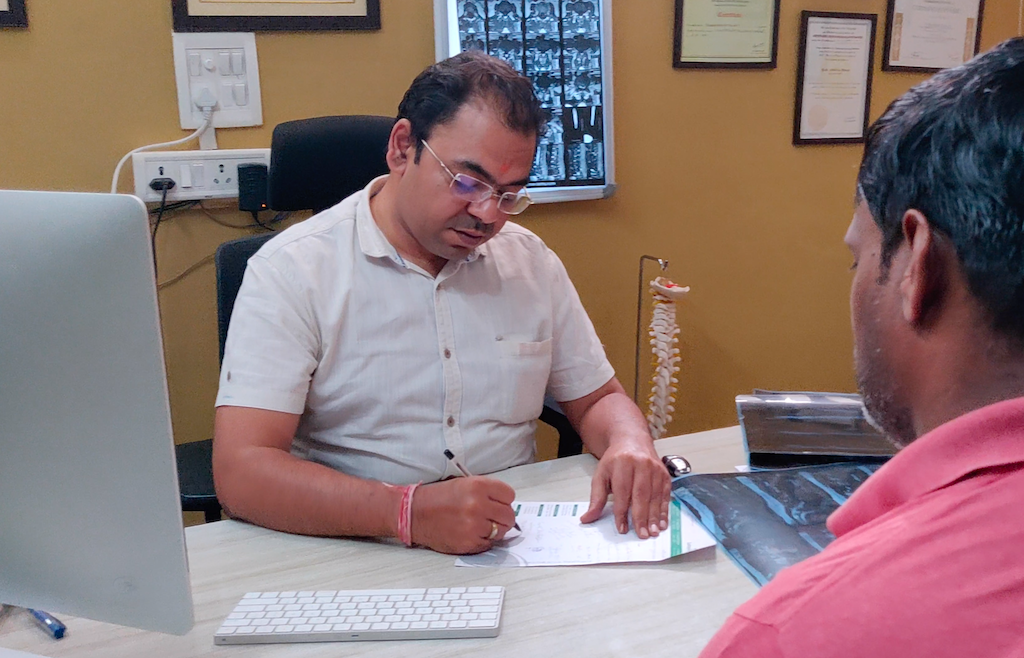 Educational and Professional Details
Vaidya Pardeep completed his education from two prime institutions of Ayurveda.
| | | |
| --- | --- | --- |
| BAMS | Sri Dhanvantry Ayurvedic College, Punjab University, Chandigarh | 2005 |
| M.D. (Ayu) | National Institute of Ayurveda, Jaipur | 2008 |
Vaidya Pardeep is Registered with the Central Council of Medicines and Board of Indian Medicine, Rajasthan. This gives him the legal capacity to practice Ayurveda.
Professional Experience
| | |
| --- | --- |
| Organization | From Year to |
| Founder and Chief physician Sukhayu Ayurved, Jaipur (Rajasthan) | 2007 to Present |
| Founder and Administrator Sukhayu Ayurveda Yoga Academy, Jaipur (Rajasthan) | 2011 to Present |
| Ayurveda Consultant, B L Kapoor Hospital, New Delhi | 2019 to Present |
| Director, eVaidyaJi Wellness Pvt. Ltd. | 2010-2017 |
| Consultant Atharv Ayurveda, Chandigarh | 2004-2017 |
| Board of Director, SAMA, New Port, Rhodes Island, USA | 2008-2010 |
| Education Director, Ayurveda Today, Chille | 2007 to 2011 |
| Formulation Consultant, Greentara Botanicals, USA | 2008-2015 |
Papers Presented
Title of Paper
Presented@
Year
Types of Vata Doshas and its impact on neuropsychology.
Panchakarma Conference 2006.
National Institute of Ayurveda, Jaipur
2006
Role of Vamana and Virechana on Psoriasis: Clinical Study
World Ayurveda Congress, Delhi
2007
Spinal Disc Diseases and Role of Panchakarma Treating these Disorders
6th International Conference on Ayurved and Complementary System of Medicine (Malaysia)
2009
Psychological Disorders w.s.r. to Ayurvedic Body Types
7th International Congress of Psychology Kranjaka Gora, Slovenia
2016
Panchakarma and other Ayurvedic modalities for treatment and management of Gout and Femoral Head Avascular Necrosis: Counterintuitive approaches, experiences and recommendations
European World Ayurveda Congress,
Koblenz, Germany
2016
Evolving to Wellness with Ayurveda: An Approach for Life
European World Ayurveda Congress,
Koblenz, Germany
2016
Ayurveda treatment for Celiac Disease: A case series
International Ayurveda Congress, London
2017
Reversal of Grades of Avascular Necrosis: Cases Series of 7 Patients
12th European Congress of Integrative Medicine, Barcelona
2019
Major Achievements
Award of Academic Excellence, 2002, Dhanvantri Ayurveda College, Chandigarh
Award of Academic Excellence, 2002, Dhanvantri Ayurveda College, Chandigarh
Scholarship Awarded for best academic performance by Dabur India, 2004 & 2005
Scholarship Awarded by AIMIL Pharmaceuticals, 2005, Delhi
Best Thesis Award by Charak Pharmaceuticals, 2008, Jaipur
Young Achievers Award in Healthcare Category from Economic Forum Of India, Delhi, 2010
Best Oral Paper Award in 6th International Conference on Ayurved and Complementary System of Medicine (Malaysia)
Co Chair in World Ayurveda Congress 2018, Ahmedabad